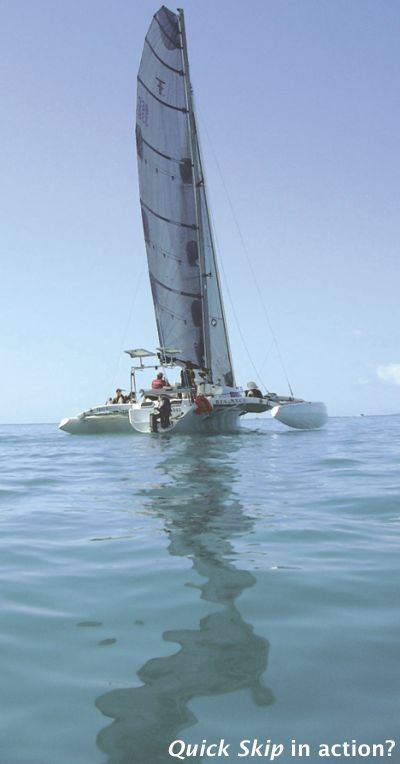 one minute there was wind... then nothing!
below.. the Overdirive crew in uniform!
below,
Simply ghosting along in light airs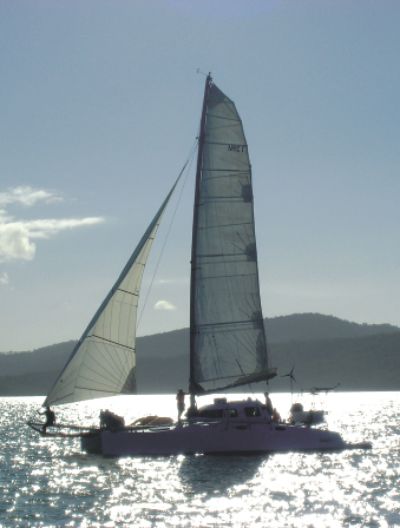 The happy treasure hunt winner and the editor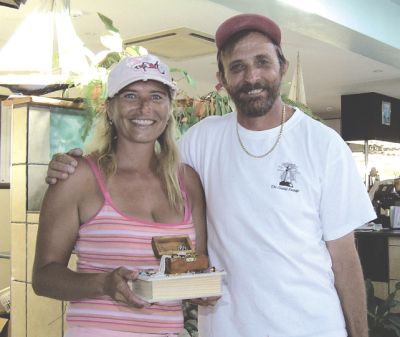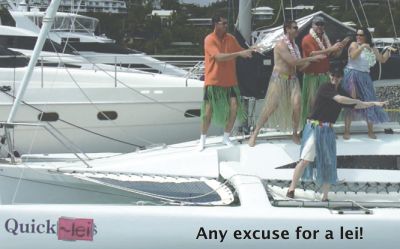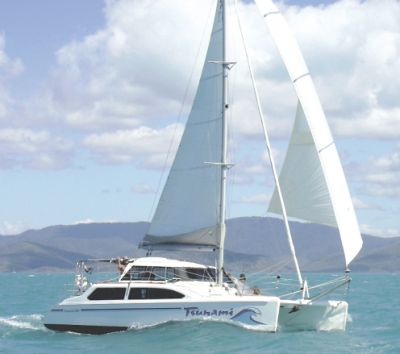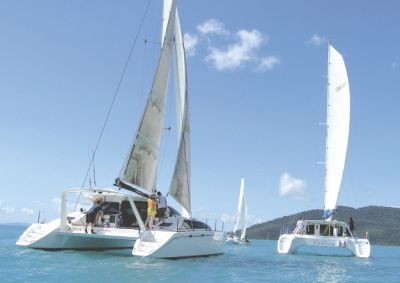 And then the prises started flowing......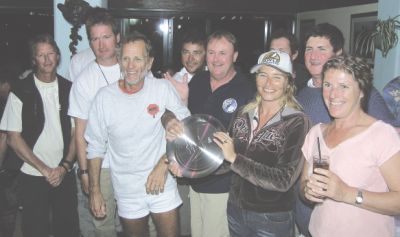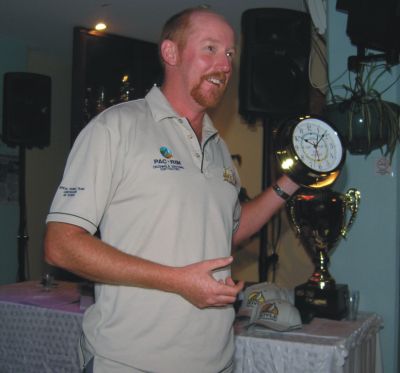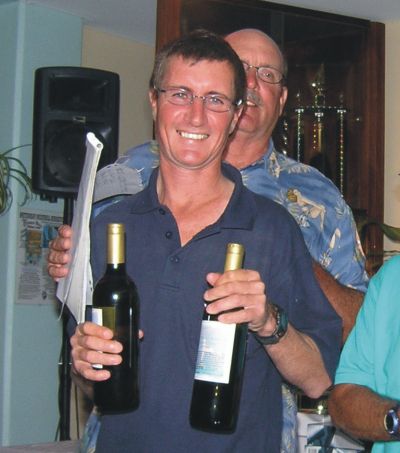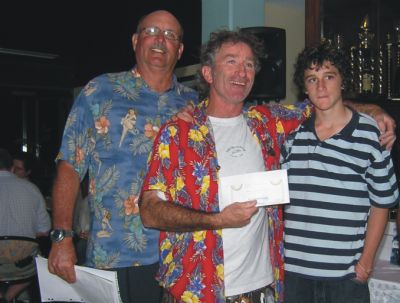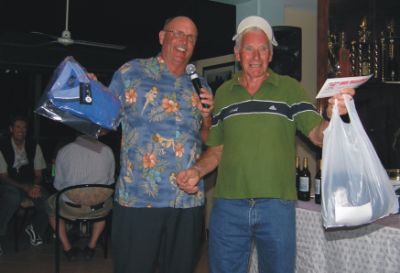 Story and photos by Bob Norson
This winter cruising season has been awful relative to paradise… Nervous eyes have been focussed on the weather forecasts but like Moses parting the Red Sea,
a window opened for this "Blessed event." God must
be a sailor and a multihuller at that as the week before saw the big dollar mono guys getting rough treatment at Hammo. There were reports of lost rigs (more than even normal) and one vessel towed in nearly sunk from a rapid and violent wind change in the Whitsunday channel. But not us.. the sun shines and the winds
are moderate so far.
As we arrived on the scene Friday, Raider was rigging up in the car park by the boat ramp. It was good to see such a competitive craft adding to the fleet. The mix is always good for Rendezvous, the fast boys in division 1 and the competitive cruisers like Southern Comfort in division 2 with newcomers for this year like Wendy and Ron of Brave Heart. The field is larger this year but still a manageable size. It is still the friendly, club like feel it has been since we have been involved, which explains why we are involved. As you may have read last issue, the Rendezvous was invented as a response to the multi's being kicked out of the race week. The informality may be a little bit of that rebellion still lingering…. Good!
Ian and Cheryl of Xtra Chilli kindly volunteered the use of there Bob Oram Cat as "The Media Boat," so
we had a great comfortable platform for the show. Sandwiches and Guacamole (with extra chilli of course) and beer for lunch. Journalism has its good days!
The start of race one off Airlie beach was in moderate breeze. A short up-wind leg saw a few fast tacks for the fast boys and then the run to Langford reef near Hayman Island. Early on in Pioneer Bay Raider fulfilled its promise of speed, marching away from the fleet. The boat is a serious speed machine. Dave, the skipper of Schionning design Spudgun confided later that unless the wind came up to 25 knots + it was going to be hard to beat Raider. But things happen or people make mistakes, so you never know.
We hung around the start area to catch some photos and then joined the fleet on the line to Langford where the division 1 guys would break off for Armit Island and The Cones (Double Cone Islands) while the 2 and 3 fleet would be doubling back to Pioneer bay and the finish line. We caught Quick Skip on the way out, gamely slugging along on heady only. We found out later that the sail maker had put the wrong slugs on the new mainsail and they couldn't raise it.
As the bulk of the fleet neared Langford the wind dropped out. Steve Halter on Time Warp said that they had wind on either side of them but they were in a hole of nothing! That's the way it was for a while. The fast boats got through before it happened but the rest had a breeze here and there…. that's racing! Back out in the channel and a while later the wind came back in. The fun watching was Southern Comfort and Cats Chorus as the two boats appeared to be closely matched and both competitive. With their screechers up they got away from us. The fleet got back in with a fine breeze and blue skies. Raider didn't make any mistakes so came in well ahead of the rest of the fast guys. Southern Comfort won the stoush with Cats Chorus and the division with Simply taking the cruisers division. At the gathering at the APYC that evening it was smiles all round. 12 packs of Crowny's were awarded and the you beaut stainless BBQ from 'Cater Quip' was raffled off with Shirley from Vega 1 taking it home.
"THE BOATS"
Braveheart
Bullfrog
Bushytails
Cat's Chorus
Fast Company
High Voltage
Marella
Knot Too Zippy
Not The Dart
Overdrive
Piglet
Quick Skips
Raider
Simply
Sirocco
Southern Comfort
Spudgun
Telltales
Thrill Neck
Time Warp
Triple Vision
Tri Reality
Tsunami
Vega 1
Wildthing
THE SPONSORS
Allboat and Cargo Marine
Boat Insurance Brokers
Emultihulls Yacht Brokerage
The Coastal Passage
Blue Water Jewelry Factory
Fosters Group
Hogs Breath Café, Airlie Beach
Anchorage Restaurant
Whitsunday Ocean Services
Marlin Marine
Home Hardware & Marine
Island Diving
FGI
Doyle Sails
Quadrant Marine
Able Point Marina
Day Two….
There was a real poker thing going on as it was a day of taking the punt… where do YOU think the wind is going to be. The course was short and simple which was good as it was a drifting contest… at times.. for some. I had Ian of Xtra Chilli run me around in his dinghy, no worries about rough water! I saw Overdrive in a hole of mill pond with a breeze all around, not much of a breeze but the other boats were moving anyway. Dave of Spudgun made a bet that running into Funnel Bay would be where the wind was…. Wrong! He sat there… When a breeze finally came up enough to ooze them outta there and toward Pioneer rocks the rest of division 1 was way gone. Dave later described his recovery as "the greatest comeback since Lazarus." That was his last wrong move and the first of several for others in the fleet. Rounding the buoy for the return to the rocks saw Spudgun and Raider arrive at the same time and to add to the fun the wind dropped out… at the same time. The boats drifted together and saw the crews fending off by hand and feet. I missed a great photo as a crew pushed off with his foot and became spread out dangerously similar to a Three Stooges routine. He was saved by a helping hand. Crew were pumping sails trying to get clear and turn the boats, serious muscle work instead of wind power. Then… they were gone. These boats make better than wind speed so when there is anything at all they step out quickly. I saw Triple Vision come very close to the rocks and commented on it… "lotta guts!" I found out later they did scrape some paint off a dagger board!
Handicap results for day two were; Div. 1: Thrill Neck, Fast Company and Sirocco. Div. 2 Triple Vision, Time Warp and Bullfrog. Div. 3 Piglet, Tri Reality and Simply.
Overdrive was the hit of the party that evening at APYC.. brilliant sombreros and wild coloured .. shirts? Whatever.. $10 meals, a busy bar, loud conversation and lies… Good times! Dave looked three sheets to the wind but he always does. If Dean Martin were reincarnated as a sailor he would be Dave of Spudgun. (That shows my age, doesn't it!) More Crown Lager and wine were given away and more prizes raffled off.
An eager crowd was gathered at the APYC/Anchorage Restaurant for the 1000 check in. Tony had a complimentary breakfast waiting of tea, coffee and crumpets. Boats were awarded a card in a sealed envelope at the meeting and would earn the rest of their five cards by completing the course. A course was laid out in the bay of about 6 miles. The weather was perfect for this kind of event.. that is very light wind, just enough to stroll around and enjoy the company and antics of Quick Skip which renamed itself Quick Lei for the event… hhmm and Overdrive with great costume and less than serious sailing! Boats were all over the place taking photos and visiting along the way. There was plenty of time to do it.
Everone gathered up at APYC at 1600 for the laying down of the poker hands.

Sharon of Southern Comfort was on suicide watch with all cutlery removed from the boat in case she didn't win and there were many bribe offers and attempts to pull extra cards out of the bag…bunch of crims!
The suspense was terrific as low hand after low hand was revealed and recorded. For a while it looked like a pair of jacks could take it but then Vicki of Triple Vision came up with a pair of Queens.. both of hearts no less! More hands were unveiled but none were better, so it was Vicki taking the treasure chest of over $5000 in jewellery and gems. Her favourite gem is Sapphire and it turned out that there were two rings in the chest of sapphire and diamonds set in 14k gold, it was meant to be. A very popular win that was applauded by all, even Sharon. Vicki's hand was a beaut. Whatever nickname she may have had before doesn't matter, she is now the one and only "Queen of Hearts."
High Voltage was the last to enter and came up with a poker hand so awful that it was the worst. They were awarded the "pity Prize" of an 18 k gold medallion of a sailing catamaran, perfect for them and their shiny new Fusion 40!
Congratulations to all who attended… what great sports!
Day three….
A big disappointment for Raider as a misunderstanding of the race schedule had them leaving before day three to make it back to Brisbane in time for the sailors curse…. work! A great shame as the boat was impressive and sure to keep the rest of the field on high alert. We all hope they can make it next year.
The weather forecast was for 20-25 knots and they were right on. The course was a short up-wind leg in the bay, a run to Double Cone Island and back for Div two and three with the fast guys continuing on to Armit Island before heading home. Xtra Chilli set me up a few miles out near the point where the protection of the headland ended. The idea was to be near the best line to the 'Cones' and have a photo feast as the fleet blasted by under spinnaker. A good idea… but sometimes things just don't work the way you think, for me or the fast boats. Sirocco was screaming toward us under light spinnaker ahead of the rest, when suddenly the big kite went to shreds! Wild Thing was right behind and nearly caught up after Sirocco stalled while trying to collect the damage, when…. OMYGOD.. there went Wild Things spinnaker as well! The race leaders in high drama… fabric scattering all over the bay… and my POS Olympus camera shits itself!!! Of all times!! Fortunately I had a small spare camera along to get some shots of the destruction but there was no future in trying to hang with the fleet so we sailed back to the anchorage, got out a beer and binoculars and relaxed.
The fleet came in sooner than expected with the excellent wind and changed the order of things a little. Boats like Vega did especially well. Ian had said before that he prefers sailing in 40 knots and I thought he was exaggerating. I am a believer now. Most boats came in with a tuck in the main and small jib. Dave of Spudgun reported that he wanted to shake out his reef in the bay but a line broke so he carried it all the way in. Vicki (aka Queen of Hearts) of Triple Vision was charging hard enough to try to make a submarine of her, so lost a little time regrouping before the blast to the finish. All in all… great sailing and no casualties of note.
Div 1: Fast Company, Thrill Neck, & Spudgun. Div 2: Zippy, Vega1, & Tell Tales.
Div 3: Simply, Tri Reality, & Piglet.
The party that night at The Anchorage Restaurant/APYC was a wonder. Steve Halter did a fabulous job of keeping an entertaining pace to the presentation of gifts and prises which, thanks to great sponsorship, were very plentiful. It was mentioned by one that this regatta is richer in prises then the big events that we won't mention here… It was a brilliant get together that all will remember for life. Many were saying this was the high point of their sailing to date and the cruisers were particularly pleased that their insurance still covered them in the non-spinnaker classes. The fastest and the slowest all looked after. There is no doubt that this was the best and next year promises even more. Tony shut down the restaurant to non-participants and the sailors ruled. All through the series there were $10 meals and great hospitality. I could go on all night….
The overall Winners! (handicap)
Div 1 Thrill Neck, Fast Company and Spugun Div 2 Triple Vision, Bushy Tails and Overdrive Div 3 Simply, Piglet and Tri Reality